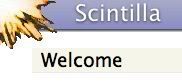 Scintilla
(Nature's attempt to jump on the web 2.0 bandwagon) just launched. As you might expect, it's a digg/del.icio.us-like recommendation/social network wannabe.
Do we need Scintilla? This is already a crowded market where it is competing with older sites such as
The Scientific Debate
,
OpenWetWare
and
a whole host of medical wikis
, not to mention the science/biology/etc tags on the giants
digg
and
del.icio.us
.
Deepak Singh points to a few other web 2.0 properties
, but cites
Pierre Lindenbaum
:
Shall I use this tool ? I don't know. I already use google-reader , technorati , etc.. to handles my resources, just tell me why I should change.
However, Scintilla has the 500 pound gorilla that is Nature Publishing behind it, so I wouldn't bet against it. To win at this game however, Scintilla is going to have to attact a large scientifically-literate readership away from it's present haunts, and fairly quickly.