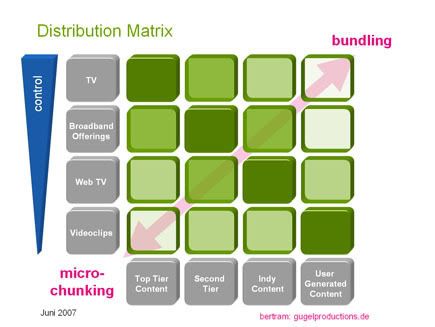 There's an interesting new article on the eyetag blog,
strategic options for webvideo
. The post contains this distribution matrix for different categories of online video which is based on content and control. This is an interesting approach which builds on simple video categories based on format alone, as described on
Rocketboom
in March.
Although YouTube style microchunking appears to be at the bottom of the video foodchain in this matrix, that reflects the commercial video production background of the eyetag authors, and the true position of video microchunking really depends on the format/purpose of the video/conent (like these
statistics videos
for example).
Nevertheless, eyetag points to the increasing tendency of top-tier video providers to offer their content as microchunked webclips (e.g.
BBC on YouTube
).
Thanks to Andrew for the lead.
Meanwhile, the torrent (geddit?) of online video sites continues, with
Chime.TV
the latest wannabe which merges some of the features of
Joost
(but without the legal network content from Viacom, CBS, etc) with the channel-creation features of
Splashcast
. Like Scintilla which I
wrote about yesterday
, Chime.TV is another web 2.0 site that's late to the party. With no killer features, why go to the effort of switching to a me-too (unless I'm missing something here)?