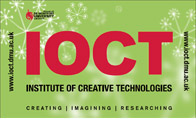 Yesterday I was at the
Future of Creative Technologies Conference
run by the
IOCT
at De Montfort University:
Introductory keynote by Andrew Hugill, IOCT, DMU.

Workshops:
Technology - Jerry Fishenden, National Technology Officer at Microsoft UK: Trends in internet and technologies.
Content - Professor Sue Thomas: Trends in digital content.
Design - Professor Martin Rieser: Trends in digital art and design.
Afternoon sessions:
Jim Hendler
Lev Manovich
Howard Rheingold
Open discussion with questions from the workshops and the floor
To be honest, it was bit variable, but overall very enjoyable and I think quite valuable. The best way to summarize the whole thing is to publish the:
Josie's Photos:
Enjoy.